You want to make some real impact? Then you've come to the right place! With our sustainable bioplastics, we bring innovation and sustainability to the healthcare sector. At the same time, we build a working environment that sees and promotes the personal development of all employees.

Our office is located in the city of science Darmstadt near the main train station and allows a comfortable commute to work by train, car, bicycle or bus. Of course, at BIOVOX you also have the opportunity to work mobile and flexibly. We are closely networked with TU, h_da and Uniklink Mainz, and thus work on the latest topics. In any case, we attach great importance to the development of all team members, both professionally and personally. Not only BIOVOX should grow, but also you. Even if we are a start-up, we know that you cannot live on air and love, but you need a regular salary. We don't have huge benefits programs yet, but we have an open, curious, appreciative and pragmatic culture in which it's easy to work.
Oh, there's nerdy humor, candies, and 3D printers here too, and delicious food around the corner.
We are looking forward to your applications to be-green (at) biovox.systems !
Questions? Contact us via >>E-Mail, >>Call or write a message on >>LinkedIn.
"Three years ago, I made the right decision to start at BIOVOX. The tasks are exciting, I am constantly expanding my horizons and I feel that my work really contributes to shaping our future. I really appreciate the appreciation and flexibility I get from you. I am a bit proud to be a part of BIOVOX."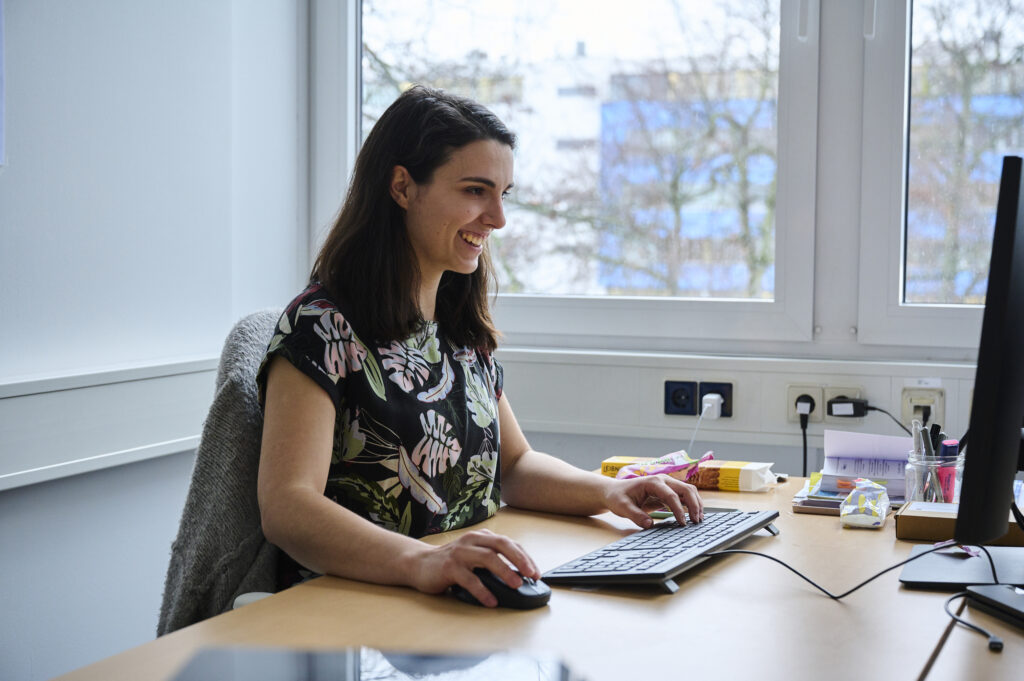 We at BIOVOX are an open and dynamic team. We like to have people on board who are keen to make a real difference in the fields of bioplastics, medical devices, environmental protection and the personal development of all employees.
BIOVOX is located in the "City of Science" Darmstadt - near the main train station very easy to reach by train, car, bike or bus. But of course you can also work mobile and flexible in time.
The fact that we reside in Darmstadt also has another effect: We are closely connected with the TU, the h_da and the Uniklink Mainz, and are always on the lookout in the research landscape anyway. This means that you are always working on the latest topics and with state-of-the-art methods. We are happy to supervise student research projects, we love applications from people who have just finished their studies, and a working doctorate is also possible.
In any case, we emphasize the development of all team members, both professionally and personally. Not only BIOVOX should grow, but also you. This works especially well in our straightforward, curious team with open communication and a pragmatic culture of transparency and appreciation. By the way, the fact that the language on this page is a bit more relaxed than on the rest of the site is not because of the intern writing it, but because we want you to get an impression of us and the atmosphere at BIOVOX. Professionalism is still important to us, but we don't mind being casual internally, because at the end of the day it's all about the results, not the form.
And even though we are a start-up, we don't want you to have to live on love and air, but need a decent salary. We don't have huge benefits programs yet, but teambuilding and sometimes sports together or a beer after work are (unreservedly voluntary) regular activities.
Oh, there's nerdy humor, candies, and 3D printers here too, and delicious food around the corner.
We are looking forward to your applications to be-green (at) biovox.systems !
Professionals & Young Professionals
BIOVOX is a startup from Darmstadt that specializes in medical grade bioplastics. With our renewable materials, you can help the healthcare industry reduce its carbon footprint by more than 80% and transform the industry towards a circular economy.
And because more sales of our plastics mean less carbon-intensive fossil plastics and a more livable planet, we need a fabulous head of sales to drive our growth. Fortunately, we already have a large customer base and the market feedback is very positive. We want to realize this great potential together with you.
We are exclusively active in B2B and supply distributors & OEMs of MedTech, pharmaceutical and laboratory equipment as well as their packaging with our bioplastics. As a sales manager, you will play a key role in scaling BIOVOX and be responsible for implementing and continuously improving the already successful sales process. One of the main tasks is to build and manage a sales team that brings our products to international markets.
Your tasks
▶ Building a successful sales organization (sales development, business development, account management/customer success)
▶ Identification and development of new business opportunities in our target markets and through different sales channels such as trade fairs, conferences and online activities
▶ Building relationships with new and supporting our industry-leading key accounts
▶ Collaborate with other departments such as marketing and product development to ensure the coherence of our market activities and product portfolio
▶ Supporting customers in their development processes with bioplastics know-how and information and providing a fabulous service
▶ Provision of reports and forecasts
Your qualifications
▶ A completed degree in economics or business engineering or similar
▶ Track record in the medtech, pharmaceutical or laboratory industry, active network in the industry
▶ Experience in creating and implementing B2B sales strategies and tactics
▶ Experience in leading and leading a sales team (desirable but not required)
▶ Excellent communication and interpersonal skills, both internally and externally
▶ Reliable knowledge of English and German, additional language skills are advantageous
▶ Strong problem-solving and decision-making skills
Our offer
▶ Large scope for design and development possibilities
▶ Competitive salary package
▶ Flexible working hours and place of work
▶ Growing responsibility with the company's success
▶ Collaborative, uncomplicated, pragmatic and dynamic working environment with very high intrinsic motivation of all team members
▶ Last but not least – Your contribution to a better world: When you succeed, you not only make good business, but automatically protect the environment, fight climate change and ensure sustainable, safe healthcare.
Still open questions in advance? Julian will answer these gladly, just get in touch by >>LinkedIn message or >>E-Mail.
We look forward to meeting you and working with you to shape the healthcare system sustainably and make BIOVOX a fast-growing company.
Schick uns noch heute Deinen CV per >>Mail.
We are a growing startup that develops and produces medical grade bioplastics as future-oriented, climate-friendly materials. To strengthen our team, we are looking for a dedicated full-time or part-time project manager/customer success manager to support our customers in the fields of medical technology, pharmaceuticals and laboratory products on their way to a more sustainable series production of medical devices. You are the interface between technology, sales and production and ensure that our customers are happy quickly and efficiently.
As part of our motivated and competent team, we offer you exciting tasks and excellent development opportunities.
Your tasks
▶ Close cooperation, support and advice from and with customers in order to understand their requirements and jointly develop innovative solutions based on our bioplastics
▶ Coordination of R&D, production and sales as well as external partners to ensure timely deliveries and compliance with the highest quality standards
▶ Ensuring that our customers learn how to produce successfully and optimally with our bioplastics on their way to serial production
▶ Continuous improvement of internal processes and processes
▶ Supporting the sales team from a technical perspective, e.g. by prototyping, acquiring new customers and establishing long-term business relationships
Your profile
▶ Completed studies in medical technology, plastics engineering or other STEM degree programs, or another relevant, proven qualification
▶ Affinity for interaction with customers, ideally experience in customer care, especially in the healthcare sector
▶ Technical understanding of plastics and production processes
▶ Strength of communication and teamwork
▶ Self-responsibility, independence and motivation
Our offer
▶ Spannende Tätigkeit in einem innovativen und nachhaltigen Startup; mit uns rettest Du das Klima und sorgst für eine sichere Gesundheitsversorgung
▶ Excellent development opportunities with opportunities to take on more responsibility and active participation in the company
▶ Open, collegial, motivated and competent team
▶ Flat hierarchies and quick decisions
▶ Mobile working possible, flexible working hours
▶ Attractive salary
Apply now and become part of the BIOVOX team! Send us your documents including CV and motivation letter by >>MailStill open questions in advance? Julian will answer these gladly, just get in touch by >>LinkedIn message or >>E-Mail.
Jobs for students, internships, theses